As promised I wanted to show you what I did while I was at Fiber College.  I took FIVE classes.  The first was the knit and Felted slipper class in which i made one slipper...which wasn't bad for a few hours of knitting:

The next day I took a punch needle class using wool rug yarn.  I think this is my NEW hobby:)  I really liked doing it and am just starting to get the hang of it, but I will say the supplies are a tad bit pricey.  The nice thing is I also purchased the hook that I can use with regular worsted weight wool yarn, which i have alot of for my purse felting.  Lot's of scraps so that will be fun to try something with them.  For now, I picked this Santa: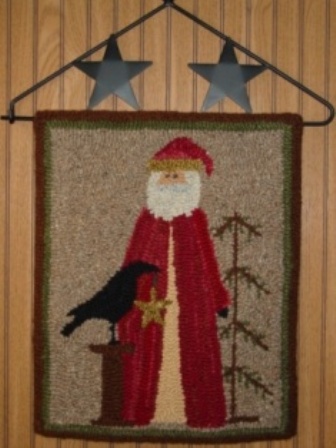 and this is how much I have gotten done front:
 
And you punch from the back:
 
I purchased all my supplies from the great people at Attic Heirlooms Attic Heirlooms  Such great fun!
In the afternoon of that day I took a wet felting class and made this:
 
Into this (the handle needs to be sewn on):
 
I had done a bit of wet felting last year and a little here and there, but nothing like this.  I love this little purse.  I made a pattern from clear plastic...designed the flowers onto it...added the roving...wet it, flipped it all over...set up the flowers on the other side and then began the process of wet felting.  It was so much fun, a little messy and here is the cool thing...the sheep whose wool I used for the base of the purse, his name is ROMEO how cute is that?  I am very excited about making some more items and have some more of Romeo's wool to use on them!  Watch for them in my Etsy shop, on here and at www.dancinglydenise.typepad.com/mepursenalities
On Saturday I took a class and made this:
 
and this:
 
and guess what the organizer fits inside of the bag:
 
AND here is something even greater, they are both made out of PLACEMATS!!!!  Placemats, can you believe it?  I am excited to make more of these too, where oh where will I find the time?
On Sunday I took a class in painting on silk.  I enjoyed the class, I like these two sun catchers I made, but I am not really sure it is a craft I will take up. 
 
 You know when you try something and it just doesn't feel like it is for you?  Well that is how I felt.
This weekend is full of family stuff and preparing for craft shows coming up.  I will be in semi hibernation mode for the next week and then in complete hibernation mode soon after.  I have a great deal of items to make for orders and for my shop and the craft/art shows.
See you soon!
Dancingly,Denise